On January 4, 2023, the CNRS, the University of Lille and the project funders celebrated the inauguration of INFRANALYTICS' 1,2 GHz NMR spectrometer on the Lille site. This NMR spectrometer includes a hybrid superconducting magnet producing a 28 T field. It is the seventh piece of equipment of this type in the world and the first in France. It is also one of the top three in the world for the characterization of inorganic and hybrid materials.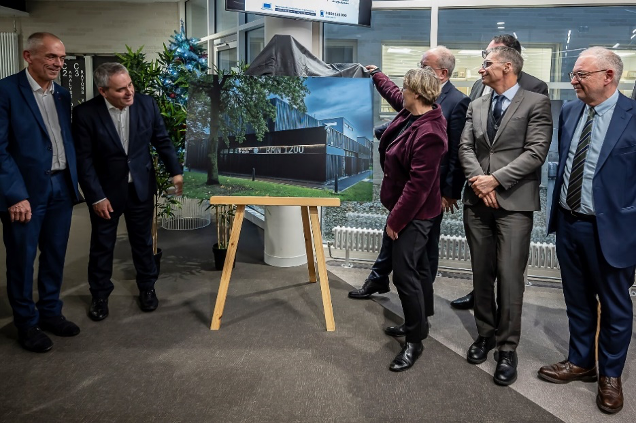 This large NMR instrument and the building to house it were funded by the CNRS, the University of Lille, the State, Europe, the Hauts-de-France region, the Nord department and the European Metropolis of Lille. After more than 10 years of work, this spectrometer is now operational in the RMN 1200 building located on the Cité Scientifique campus in Villeneuve d'Ascq. This building was specially designed to accommodate this spectrometer. In particular, it offers great mechanical, thermal and hygrometric stability making it possible to ensure the stability of the magnetic field.
The very high magnetic field of this spectrometer will increase the resolution and sensitivity of NMR spectra, both for liquid and solid samples and thus to study more complex molecules and materials. These gains in resolution and sensitivity will provide, for example, unique information for the study of the catalysts used for the valorization of CO2 and of the disordered proteins implicated in Alzheimer's disease. INFRANALYTICS members are currently carrying out tests on this spectrometer which should be open to users of this infrastructure from March 2023.

During the inauguration, speeches were given by Olivier Lafon, scientific manager of the CPER RMN 1200 project, Dominique Massiot, President of the scientific council of INFRANALYTICS, Antoine Petit, CEO of the CNRS, Régis Bordet, president of the University of Lille, Mathieu Corbillon, Delegate Metropolitan Councilor for Business Parks and Business Real Estate - Commercial Town Planning - Economic Development, Thierry Paul, Deputy Rector for Higher Education, Research and Innovation for Hauts-de-France, Christian Poiret, president of the Nord department and Xavier Bertrand, president of the Hauts-de-France region.
A video presentation of the project is available here.