Competitions
22 Novembre 2023, 09h00 - 18h00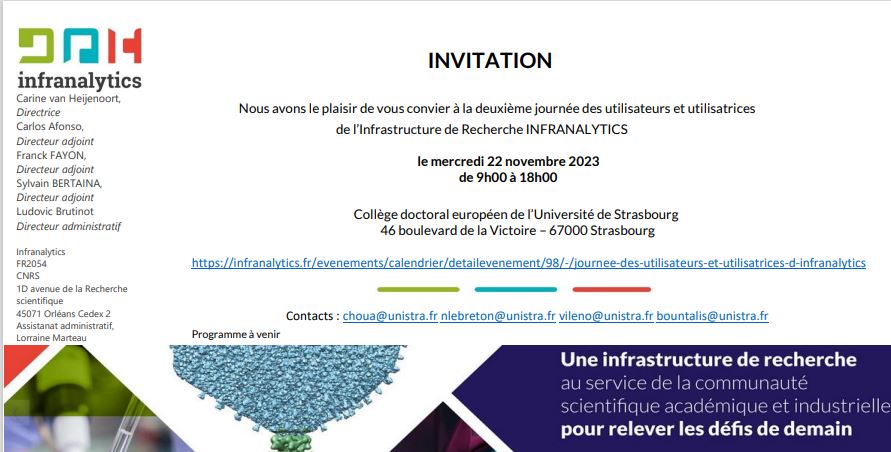 The second Infranalytics users' day will take place on November 22, 2023, in person, in Strasbourg. The selected presentations will illustrate the latest advances in the analysis techniques offered by Infranalytics, as well as the innovations implemented in very diverse fields of research and application: Materials Sciences, Chemistry, Life Sciences, Energy, Environment, Health, Cosmetics, Agri-food. Oral presentations will be given by researchers and external user engineers or members of the infrastructure hosting sites. Poster presentations are also possible.
The campus is accessible from the city center and the train station via trams C, E and F (observatory stop).
Registration details : Registration for this day is free but mandatory. The registration deadline is November 14, 2023.
Registrations are limited to 80 people.
Accommodation : It is advisable to finalize reservations as quickly as possible (opening of the Christmas market on 24/11, plenary session of the European Parliament 20-23/11). You can favor accommodation located in the Kruteneau district and in the city center.
Steering Committee : Athanassios K. Boudalis, Sylvie Choua, Nolwenn Le Breton, Nathalie Parizel, David Pianca, Philippe Turek, Bertrand Vileno
contacts:
This e-mail address is protected against spambots. You need JavaScript enabled to view it.
This e-mail address is protected against spambots. You need JavaScript enabled to view it.
This e-mail address is protected against spambots. You need JavaScript enabled to view it.
This e-mail address is protected against spambots. You need JavaScript enabled to view it.
Location
European Doctoral College of the University of Strasbourg
46 Boulevard de la Victoire
Strasbourg
67000
France
Register for the event
Registrations are now closed