Conferences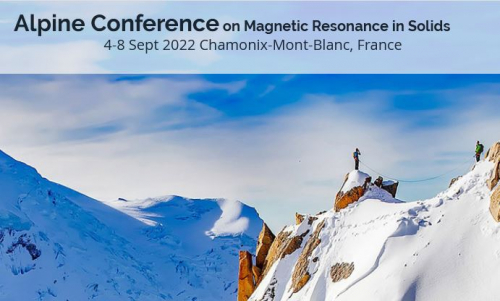 The Alpine Conference is a high-level international forum for the discussion of recent developments and applications in the field of magnetic resonance in solids.
Conferences

Analytics2022 will thus be a privileged space for exchanges around the Science and Technologies of measurement, favorable to the deepening of our knowledge and conducive to new encounters; nearly 750 delegates are expected and the major partners in scientific instrumentation, sample preparation and data processing have already expressed their interest in this event.
Conferences

This 2022 edition will be an opportunity to deal with everyday technological applications in space and the challenges to be met in terms of research and innovation.
Arrival of a very high-speed 4-channel HFXY NMR MAS probe in Orléans
Read more >
The methodological developments carried out by Andrew Pell's team at the Infranalytics NMR center in Lyon make it possible to push paramagnetic NMR further, particularly for the study of sodium-ion battery components.
Read more >
Bolaamphiphiles appear as promising materials for biomedical applications.
Read more >
Loïc Salmon and Sami Jannin have received new funding from the ERC for their respective research on the use of microRNAs for virus inhibition and in DNP by dissolution.
Read more >
Antoine Loquet, scientific manager of the Bordeaux site, received the Ampère Prize (May 2021) for his research on the study of protein assemblies by nuclear magnetic resonance in the solid state.
Read more >
The Infranalytics launch meeting brought together around 120 people, at the Cordeliers center at Sorbonne University and remotely.
Read more >
Find a platform